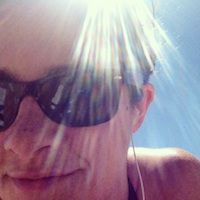 Last summer, I got to go to Rome.
I wasn't a big lover of Summer. I love sweaters, rainy Seattle, & Pumpkin Spice Lattes. In other words, I love Fall.
But after living in England for a cozy, gloomy year I was sort of ready for some heat.
Then I landed in baking hot Rome. In the middle of August. When even the locals shut down their shops & retire to the coast for the end of the summer.
But instead of being miserable & running for the air conditioning... I loved it. I basked. I soaked up the sunshine.
I thought it was temporary, the result of an overdose of English rain. But it turns out I have actually learned to love Summer.
It's a good thing to learn. I didn't know what I was missing.